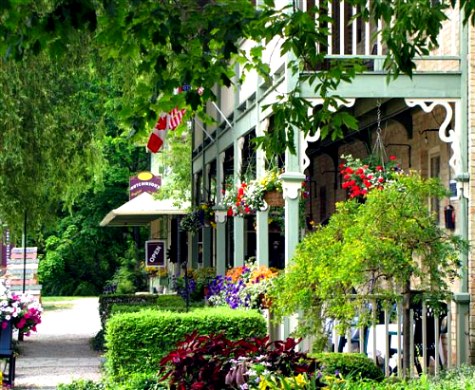 Bayfield historic gem of a village with a charmingly restored Main Street, a marina that's a sailing mecca, and three beautiful beaches
With kilometers of hiking trails to walk on, rivers and streams to fish in and a selection of greens to golf on. You can do a lot. You can do a little. Or you can do nothing at all. It's entirely up to you. Located on the shores of Lake Huron, Bayfield offers world-class freshwater sailing, fishing and swimming. Looking to learn or enhance a hobby? Take part in workshops built for your "inner artist" at associated art galleries; take a sailing lesson at our welcoming marina; or join in a yoga class on the Beach. Looking for that winter get-away? Enjoy the immaculate natural landscape while snowmobiling, cross country skiing or snowshoeing. Maybe you're Bayfield experience is looking for something a little more low key? Take in the fresh Lake Huron breeze and rejuvenate at one of our spas. Or stock your pantry with our fresh, local plenty and don your own chef's apron.
No matter what relaxation means to you, you'll find plenty of ways to achieve it in Bayfield.
ART CLASSES FOR KIDS AND ADULTS
Kryart Studio The kids get to be creative and you get to relax!
BAYFIELD FARMERS' MARKET (FRIDAYS 3-7PM)
Bayfield Farmers' Market – Every Friday from May-October join us in Clan Gregor Square for our Friday Farmers Market!
BEACHES
Bayfield Main Beach with drive up access
Pioneer Park Beach with about 80 steps down to the beach
Howard Street Beach with about 80 steps down to the beach
BOATING ADVENTURES
Sail Huron (aboard "Stir Crazy")
Xtreme Water Sports (Grand Bend)
CANOE & KAYAK RENTALS
Village of Bayfield Marina (The marina office located behind the public washrooms at Bayfield's Main Beach)
FISHING
Fly Fitters – Guided fishing tours
Wavemaster Sport Fishing (Grand Bend)
GOLF
HORSEBACK RIDING
Home on the Range – Located in Londesborough
MARINAS
Village of Bayfield Marina (The marina office located behind the public washrooms at Bayfield's Main Beach)
Bayfield River Cottage Colony and Marina
MINI PUTT
Mini Putts Golf Course at Gold Coast Landscaping
MUSEUMS
Bayfield Historical Society & Archives
Huron County Museum and Historic Gaol
PARASAILING
Grand Bend Parasail (Grand Bend)
PARKS
Clan Gregor Square has play equipment for the kids including splash pad
Pioneer Park offers breathtaking sunset views
Bayfield River Flats offers river access to paddlers and anglers
READ
SKY DIVING
SPLASH!
The Bayfield Splash Pad in Clan Gregor Square!
SPORTING GOOD RENTALS (INCLUDING BIKES & PADDLE BOARDS)
TRAILS & NATURE
THEATRES
Starlite Drive Inn in Grand Bend
Huron Country Play House in Grand Bend
The Blyth Festival in Blyth
Pioneer Park, Movies in the park – check their website for this seasons schedule
The Bayfield Town Hall The Bayfield Film Series – check their website for details
WAKE BOARDING/PADDLE BOARDING
Windmill Lake Wake and Eco Park
WALK OR RIDE
Outside Projects For sporting good rentals and more!
Peddle Car Rentals at Kryart Studios
WATER SPORTS
Xtreme Water Sports Grand Bend

Spring
is coming and it's time to get out of the house.
Refresh, Rejuvenate